Indigo Blues ~ Rich, Vibrant, Historical, Timeless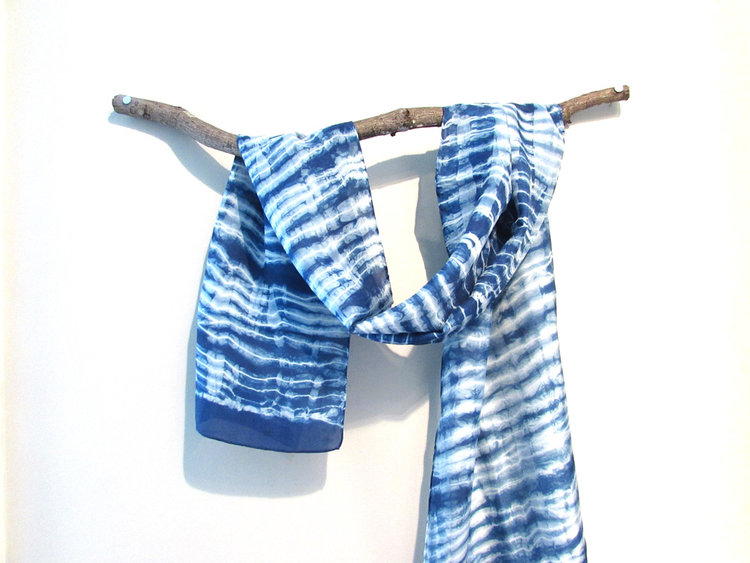 We are excited to announce a unique workshop with guest instructor Caroline Harper. SC has a rich history with indigo, a plant that produces a blue dye, was an important part of South Carolina'seighteenth-century economy. It was grown commercially from 1747 to 1800 and was second only to rice in export value. ... In South Carolina, Eliza Lucas Pinckney and Andrew Deveaux experimented with cultivation in the 1730s and 1740s. The history and tradition of indigo growing and dyeing is being revived by Caroline Harper as she plants indigo in Charleston and teaches about the history and techniques that create functional works of art.
Arashi Shibori & Indigo Silk Scarf Workshop
SKILL/TECHNIQUE COVERED
Participants will be shown the ARASHI SHIBORI, also known as pole-wrapping. Arashi (Japanese for "storm") shibori is a Japanese ancient technique that results in vertical or diagonal stripes that are reminiscent of the storm driven rain. The prepared scarf will then be dipped a few times in a non-fermented indigo bath. After unwrapping, you will enjoy the surprise of seeing everyone's unique creation and go home with a beautiful silk scarf.
LEVEL
Beginner
MATERIALS
Instructor will provide a silk scarf and all other material necessary
PLEASE BRING WITH YOU:
A pair of rubber or latex gloves

An old shirt or apron – and please wear old clothes
The cost of the class is $75. per person. You will learn the history of indigo, how to create your own dye tank, and dye a scarf with the arashi shibori technique to take home with you.
All classes require a waiver signed at registration and before class arrival.
About the Instructor ~
Caroline Harper launched Chi Design Indigo, LLC in 2014 to produce a line of natural fiber textiles for home décor and fashion accessories, all hand-dyed with natural indigo she grows and processes in South Carolina. Her products are sold at annual craft shows, on-line through her website, Etsy, and small boutiques and galleries. Caroline traveled to Japan to study Shibori and other ancient resist-dyeing techniques and shares her passion for indigo and other natural dyes by hosting workshops tailored to students of various skill levels. Her mission is to revive the culture of indigo in South Carolina and provide indigo education and production experiences.
Awards
Earned 2015 American Made by Martha Stewart on Amazon Handmade

First Runner Up, Crafty Feast 2015

Semi-Finalist, Made in the South Awards 2016, Garden & Gun

Apparel magazine 2018 Top Innovator